17 HIM came out to the gloom to make some faces.  In recognition of the long time during the pandemic when we didn't see many faces but just a bunch of masks, YHC thought we'd workout to a "face" themed Q.  As usual, the playlist was weeks in the making . . . the workout, not so much.
Playlist:  Songs with Facial Features Prominently Featured (and no, all of these aren't from, like 40 years ago . . . but some are.  They're good tunes, so expand your music library, folks)
Eyes Without a Face – Billy Idol
Lips Like Sugar – Echo and the Bunnymen
Tongue Tied – Grouplove
World in My Eyes – Depeche Mode
Can't Feel My Face – The Weeknd
Mouth – Bush
Blood Makes Noise (Ringing in My Ears) – Suzanne Vega
Over My Head – The Fray
Private Eyes – Hall & Oates
Head Like a Hole – Nine Inch Nails
PAX:  Chowdah, Crablegs, Crawlspace, Cub Cadet, Firefox, Hardcover (FNG), McAfee,  Michelin Man, Minus 3, Natural Ice, Right Said Fred, Siri, Solo Cup, Spinal Tap, T-cell, Weezer (Willy Lohman from Memphis), & Vector (QIC),
Conditions:   mid-70s. Not too humid.
Disclaimer given and then mosey up to the McCabe Circle:
"Eye #1"
Warm-o-rama: 

 LBAC x 15, Seal Claps x 15, RLBAC x 15, 

Willy Mays Hayes x 15 OHO,

Good Mornings x 10, 

SSH x 15

Circle O' Merkins: Start with 1 merkin, add by 1 as we go around circle; once gets to Q, start counting down with 1 less per PAX
"Nose"
Get in groups of 3.  1 PAX starts at point 1 with squats, 2nd PAX at point 2 with WWIs, 3rd PAX at point 3 with Burpees. PAX 1 completes 50 squats and then tags partner at station 2, who moves to station 3. Round until all have completed all 3 stations.  Conveniently creates a nice triangular "nose" for our face.
"Smiling Mouth"
Two stations, from one end of path along driving range from stop sign to stop sign.  Sevens with Lt. Dan's at East end of path, Plank Jacks at West end. Run back and forth, in a nice "smiley face" path.
"Eye #2"
Mosey to circle in front of rec center.
Squat relay: PAX perform squats (or jump squats or air chair or whatever we felt in the moment) while 1 runs the circle
Mary:  A range of exciting exercises like Flutter Kicks, LBCs, Boxcutters, J-Lo's, and the ever so interesting Crablegs Tantric Pickle Pounders (clearly, some pickles don't punt in as many steps as the HIM from Florida)
COT:
Welcome FNG Hardcover, a friend of Spinal Tap, who teaches Bible Studies at Belmont, wife is a librarian. Also to Weezer, visiting from Memphis.
Tonight is the night:  Campout at Cub Cadet's Place, under the stars, on the river.  Truly an awesome location. Come for the company, the conversation, the bourbon, the BBQ, the beers.  Cubbie states he'll lead a workout at 0600 — YHC is a bit worried about the risk for splashing merlot among the PAX.
Q spots are open for Bomber — hit up Michelin Man.  After today's shambolic Q, hopefully you realize anyone can lead.
We ended with an F3 standard that had to go away during the pandemic – the Ball of Men. The last one held at Bomber was during my 50th birthday Q the first week of March. At the time, my life was spiraling into what was coming ahead and the stress of what we were all about to face overwhelmed me.  It was an honor to be the Q to bring the BOM back to Bomber.  Thanks to all of you for pushing me to be a better person each and every day. #ISI
Footnote: while the intent of the layout of the workout was to draw a face, it didn't quite look so accurate in the end: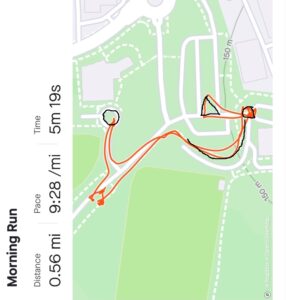 SYITG,
Vector