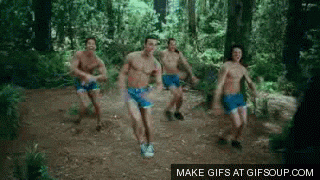 Conditions: It's raining men. Hallelujah, it's raining men.
13 PAX in Attendance: Barney Fievel (QiC), Stats, Numbtucks, Creeper, Deliverance, Dongle (FNG, welcome!), Sterno, Tebow, Glen Garry, Staples, Nimbus 1500, Sex Ed, and Professor X.
Disclaimer – This was a 10/10, Grade A disclaimer. I might have to start dropping the "not a professional" part.
Warmorama
Show Me lap
20 SSH IC
10 squats IC
20 LBAC
Now that we're all warmed up, won't you join me for a little jog up to the shed? There's something I want to show you… Coupons! Let's all grab one and get to work!
---
Thang 1: Coupon 7's (Ginuwines and Yurpees)
Ginuwines are a little gem I came up with sometime last year. With coupon in hands and at chest level, PAX drop down into the athletic position while simultaneously pushing the coupon out in front of them. Gyrate the coupon from left to right before popping back up into standing position, simultaneously bringing the coupon back to the chest.
Think about the dance move from Ginuwine's "Pony" and you'll do fine. You gonna look fine too. Or ridiculous. We haven't done this one since we started using cinder blocks for coupons. It hurts in the very best way possible!
Yurpees are the brain child of former F3 Nolensville PAX and current HIM of F3 Spring Hill, Ragdoll and Cheeze Whiz. Modified burpee in which PAX perform a clap merkin and two jumping knee taps. Every man hopes to leave a lasting legacy. You two have left us with a lasting soreness. Thanks a lot!
Mode of Transportation was bear crawl one way and lunges the other.
Thang 2: Box Jumps and Ballz 2 the Wallz
Partner up. While partner one performs 5 balls to the walls against the park bathrooms, Partner two performs box jumps on the nearby bleachers. Keep rotating until 100 box jumps are performed as a team.
If you never thought you'd find yourself in a park at 5:30am, hanging upside down with your balls against a public restroom, elbow to elbow with a bunch of other sweaty guys…then I guess you're "normal."
---
PAX moseyed back down to the parking lot for a little Sally action, merkin style. TClaps to Nimbus 1500 for completing it! Definitely not easy after those Ginuwine's. Good grief. Here I thought you had expended all of your energy when you blew that coupon into rubble with your farts.
Mary
20 BBSU
20 Freddie Mercury's
10 Alabama Prom Dates
1 GM
Moleskine
F3 Nolensville's Christmas Party is December 21st at Casa de Staples! Numbtucks is smoking a brisket! More details to come but mark your calendars!
This morning, we learned that Nimbus has trained himself to where he can now break coupons with his farts. Impressive.
We also learned that, while F3 is open to men of all faiths, in Barney's mind, we're a Jesus Shop. Sorry, not sorry.
-BF-